Our Service Is Unmatched
The service team at Hodges Mazda has been factory-trained to provide you with exceptional service and ensure your vehicle is performing at its best.
Take One Step Closer
If you're in the market for a new Mazda, take the first step by applying for financing. We'll work with you and our network of banks to get you in the right loan for the right vehicle.
Everything was great. I was in for a recall and the service was completed. I ordered parts and another service for installation on 09-28
Clayton and our salesman, Van Jones, were great! Both were very knowledgeable and accommodating. Process was easy and efficient. Would definitely recommend Hodges Mazda.
The service team was thorough and very helpful. Corey made sure to keep me informed.
Matthew, Hans and Jason were absolutely fantastic to work with while purchasing a new vehicle.
Everyone was great I don't like that you are insisting that I do this
Very helpful and professional every time I have to go there for service and other stuff
I had a wonderful experience purchasing my Chevy Equinox over the weekend. Everyone was so kind and professional. The process was quick and very easy. I want to especially thank Austin Powell our salesperson for a friendly and great experience. Austin was very thorough and pleasant young man. I would like to thank Rodney Kunanan in finance. Rodney was very thorough and explained all my warranty options and was also a pleasure to work with. Last but not least is Drew Woods. Drew was very professional and a very helpful person. I will definitely recommend Mazda of the Avenues to friends and family. Thank you all so much for an awesome experience!! I will be back to purchase my next SUV for sure!
I did not see Drew. But I want to thanks very much my salesman, Hans, that went about and beyond answering all my questions and making my transaction smooth and effective!! Thank you, Hans!! Good job!!!
Corey is great. I was in and out of the dealership in to time. Great dealership.
Donavan Smith is the reason we walked in to the showroom uncommitted to buying a car for our daughter and left with not only a new car for her, but one for me, too. He's a bright, engaging and low pressure sales rep. Positive experience through and through.
Bought a Mazda Miata from Hodges Mazda, the salesperson Brain(Chief) is definitely the best salesperson I ever met, it was a great experience, and I love my Miata!
Amazing atmosphere! It's always a great feeling going to a friendly place! Love it! Any questions or concerns I have they are taken care of immediately! I also never feel pressured to make a decision and always satisfied when leaving! Highly recommend Hodges Mazda over any other Mazda dealership near me!!
Jeff and Timothy were amazing!!! They made my experience a breeze!!! I will definitely be referring friends and I'll be back myself. Thank you!!
My husband and I were referred to Hodges Mazda based on raving reviews from a friend. We were connected with Vince and David. Our entire experience with the dealership was great. Each person we interacted with made time to listen to us and answer our questions in detail. We appreciated that all involved took a customer focused approach. As long time Ford and VW buyers we never imagined making a switch to Mazda. The professionalism and attentiveness of the staff made for an easy transition. We are now proud owners of a 2022 Mazda CX-9. Further, Vince and David went above and beyond by helping me locate a newer VW Atlas. While I didn't personally switch to Mazda (yet) it really stood out to me that they made the effort to help me find the car I wanted. Within a few weeks of my husband buying his Mazda I received a call from the dealership about the VW and quickly made my purchase. There aren't enough good things to say about Hodges Mazda, Vince, David and the entire team. We are confident that no matter what we need the team is ready to support with top quality and care. We highly recommend doing business with them. Thanks to all who have and continue to help take care of our vehicles and us as clients. - Dustin and Erika Oswald
Great experience..Sales Rep Dustin was the best. He listened to my needs and situation. No high pressure, no ignoring what I said and showing me unaffordable options. Dustin worked hard to show me both certified pre owned and new that would meet my needs. Decided on a 2023 CX-5 because the price was better than most used I had looked at and they got me a fantastic rate, especially considering how rates keep climbing.use this dealership for great customer appreciation.
After looking in several Javksonville dealerships, Hodges Mazda was the only one that worked with us to make our numbers fitting our needs, we acquure more than we were looking for considering our budget and gave us a grear service and experience!
Unlucky to deal with mr M. Tudor. Totally misleading - with one purpose - to maximize his profits . Forcing the so called " finaincial products" on the top of MSRP , switching cars , showing you one invoice and trying to sell you a different/cheaper car . For sure he is a sales manager because is closing many deals. With total disregard to the client. How ? It looks no one care Terrible buying experience . Luckily, he was not in the dealership at pick up , so the deal was finalized in a totally different manner by a a different manager. I mentioned this bad experience, to everyone i know. I will be back at this dealership to buy another car and hopefully i dont have to see him again. I have to mention a positive thing : They have a superb service department.
I'd like to thank Hodges Mazda over by the avenues for being super honest and caring about my car situation with my daughter. I definitely recommend anyone that is looking to buy a vehicle unfortunately for my situation my daughter needed a little more funds to put down so hopefully I can get her something to get her back to college in Orlando. Jeff Still was very helpful and honest.Im sure they are putting the best interest in each individual customers as a priority.
I had an awesome experience purchasing my CX-5 at Hodges! Everyone is friendly and the customer service is truly superior to other dealerships in the area. This is my first ever brand new car, and I spent weeks test driving every mid size SUV in this class. Chief was communicative, patient, and took time to show me all of the features on the models I took a look at. I was ecstatic when he messaged to let me know that they had exactly what I was looking for, weeks earlier then expected! Tim in the financing department was also very helpful with answering all of my questions and guiding me through financing a car for the first time. I just returned from my first road trip to the mountains in my new car, and she drove beautifully! If you are looking to buy a new car, visit Hodges Mazda and ask for Chief! You will be in excellent hands!
What a great car buying experience. Neil is THE best. He made everything easy… no hassle, no pressure. Would definitely recommend!
Dry respectable young man! He was sharp on his knowledge and if he didn't know something he would find out in a hurry. Great service!
Wanted to purchase a Mazda 3 and everyone on staff was great from the salesman to the manager!
I went into Hodges Mazda this past Saturday after visiting five other dealerships and being disappointed with both the selection and the customer service. I had no intention of buying a Mazda, but I thought they might have some other used car inventory to look at (and a few friends recommended Hodges). We were immediately warmly greeted by Preston Duffey. He was patient with us as he heard what we were looking for. We considered a few other options, but then he gently asked us if we had ever considered a Mazda. To be honest, no. But when we explained that we were looking for a reliable car, didn't want to pay luxury car prices, and wanted something that would be manageable for repair prices, but also fit our family needs, he said, well, that's Mazda. After showing us some reports and reviews, we were willing to look at some vehicles. We were especially interested in a 3rd row SUV. We had already seen Toyota Highlanders, Honda Pilots, Ford Explorers, and Nissan Pathfinders that day. But when we saw the Mazda CX-9 we were pleasantly surprised to say the least! Not only did it have comparable if not better interior space as these other models, but it also was very sleek looking. And for basically the same price range as these other vehicles we were able to get a newer version with less mileage. We checked with a few trusted friends and were surprised to find out how many people we knew who owned Mazdas, and were very pleased with them. Our sales consultant, Preston, was very patient, extremely knowledgeable, and eminently helpful before, during, and even after the purchase of the vehicle. We also got to know Drew Woods, the Pre-owned Car Manager, and we were convinced that this was the dealership we wanted to do business with. Even if we found a similar price on the same vehicle somewhere else, we decided that we liked Hodges Mazda, the people there, and the values they held and reflected in their company, that we wanted to keep working with them. In fact, for my wife's Toyota, we are going to stop going to our Toyota dealership for her maintenance and come to Hodges Mazda from now on. All that to say, I highly recommend Hodges Mazda, I love my car, and I loved working with Preston and Drew. I look forward to seeing both of them again the next time I'm at the dealership.
Very respectful and mindful of my interest. Great experience! Too bad we couldn't make a deal. Maybe next time. Thank you.
I had to take my car in for a diagnostic test due to engine light on. I had a difficult time booking an appointment in Orlando so I drove up to Jacksonville for this dealership. They scheduled me in same week. I have been blown away by the service and availability and communication. It has been such a relief and no one could come close to their speed and availability. Thank you again to Camile in service. She was so accommodating and fast at communicating with me in text. She welcomed me with a smile with Rodney service manager as I was stepping out of my car too. The prices were awesome on the quote. I really liked the video inspection as well. Overall I feel like a valued customer receiving vip service and treatment. I dropped my car off at my appointment time of 730 am and my car was diagnosed, fixed and washed and ready to pick up my 11am, under 4 hours. Everyone including this dealership as so busy, but they are great with working on time and schedule! It's worth the 2.5 hour drive! Also in checking out I had great service with Ali and she helped me with information in future services with zero finance options so I can come back to do my breaks.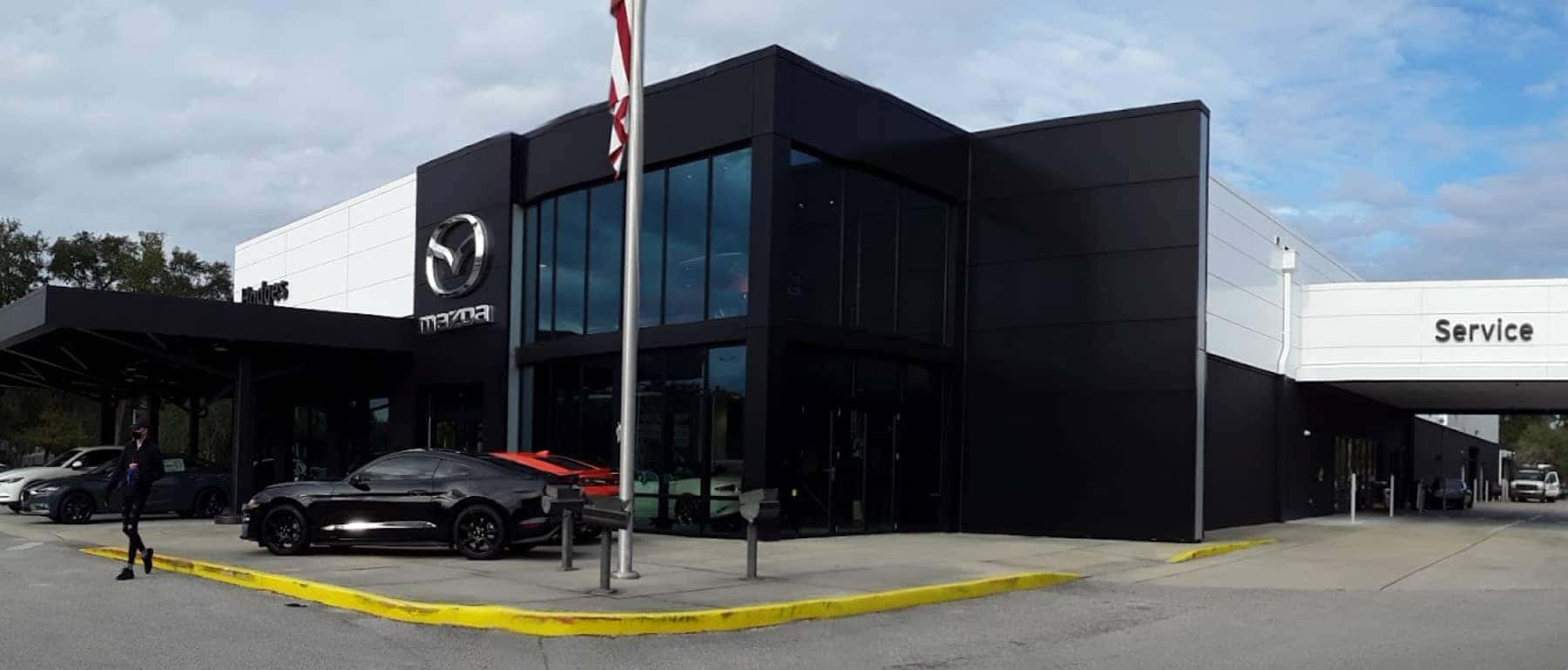 We're Your MAZDA Dealer Serving Jacksonville, Orange Park, And St. Augustine, FL
Welcome to the Mazda dealership that drivers in Jacksonville, FL, turn to for a five-star experience. If you're like most of our customers, you're looking for a place that has a great selection of vehicles with a staff that's highly trained, energetic, and always puts you first. We can't wait for you to explore our brand new website. We've been hard at work reorganizing features so that you can have a better shopping experience. So whether you're still getting to know the Mazda brand or are ready to buy today, we've set things up for you to have the most successful experience possible. If you're looking for a great place to start, check out our new Mazda SUVs for sale. Luxurious, technologically advanced, and ready to thrill, any of them will put the fun back into your daily drive. So with that, we invite you to click around or scroll down for more about us, our services, and what we can do for you.
Your Used Car Dealership near St. Augustine
Let's flip the script for a second. You might know us as the Mazda dealership near St. Augustine that brings beautiful new Mazda vehicles to our community, but did you know that we're your one-stop-shop for everything used-car related, too? Here are some of the highlights from our pre-owned department:
Awesome Cars, Trucks, & SUVs - We take fantastic vehicles on trade all day, every day. So whether you're looking to get into a used Mazda vehicle or one of our exciting off-brands, we've got a selection that has something for everyone. Be sure to contact a sales specialist as soon as you find something you love. These vehicles leave us as fast as they seem to arrive.
Products For Peace Of Mind - Drive off knowing that each of our used vehicles has been thoroughly inspected & tested by our professional staff. Add even more confidence to any situation that might come down the road with our extended warranties. Ask about our wheel & tire protection packages, exterior appearance packages, interior protection packages, extended service packages, and more. If it's attached to your car, we've got coverage for it.
Finance Done Right - Fill out our secure online credit application and let our network of lenders compete for your business. We've got lenders to cover just about every type of buyer, so why not make the most of your purchase with a rate that was designed to get your attention and save you some money? With this step out of the way, you can shop with total confidence knowing that money is virtually in the bank.
Your St. Augustine MAZDA Dealer for Service
Did you know that you can upgrade your Mazda MX-5 or sporty Mazda sedan right here in our shop? Our local chapter of the Sport's Car Club of America is proud to offer members their very own track at Roebling Road Raceway in Jacksonville, FL. If you're looking to have some fun with your Mazda vehicle with education from the region's top drivers, we'd recommend signing up.
Count on us to keep your premium Mazda vehicle at its best with a genuine Mazda oil change, deals on new tires, parts & service coupons, brakes, rotors, and more. We've got the latest diagnostic equipment to get to the bottom of every issue that might come up down the line. Call, click, or swing by our Mazda service center with your new Mazda CX-5 for routine maintenance, upgrades, road-trip preparation, and more.
A MAZDA Dealer in Jacksonville That Knows New
If you love vehicles that are built for life on the go, then you'll love our sports cars, luxury sedans, and new Mazda SUVs for sale. Can't decide between our irresistible models? Why not try the nimble Mazda CX-30? This compact SUV offers the agility of the Mazda3 with the capabilities of the Mazda CX-5. If you love driving without restrictions, then you owe it to yourself to slide behind the wheel of this well-proportioned machine and go for a spin.
The Future of Your Mazda Life
We want you to love your vehicle. And we know that part of doing so is being kept up to date on all things Mazda-related. Check out our latest models like the Mazda CX-50, other vehicles, services, products, and more. So kick back (if you haven't done so already), click around and have a great time on this site. Your life on the road is about to reach a whole new level.
Hodges Mazda
Jacksonville, FL
10681 Philips Highway, Jacksonville, FL 32256
Hours
Sales
Monday - Saturday: 9:00 AM - 8:00 PM
Service
Monday - Friday: 7:00 AM - 7:00 PM
Saturday: 8:00 AM - 5:00 PM