Mazda Oil Change Service In Jacksonville, FL

Stop by our location in Jacksonville, FL, for expert Mazda oil change services. While this might seem like another chore to add to your endless to-do list, it's a crucial process meant to save you a lot of time and money in the long run. Our team knows just how busy you are and will do our work as efficiently as possible while also looking out for your best interests in other ways. Here's a closer look at the importance of regular oil changes and how our team takes care of our customers.
Why Do You Need Genuine Mazda Premium Oil Service?
Our Mazda-certified team has the specifically designed formulas needed to help your car achieve optimal performance. Fresh engine oil helps lubricate essential components of your engine system. It reduces the risk of overheating, which is an essential part of preventing premature engine failure and replacement. It also helps clean out the system to promote efficiency by moving dirt to the filter.
However, engine oil has a limited life span. In most cases, it's recommended that you get a Mazda CX-5 oil change approximately every 7,500 miles. For the majority of drivers, that amounts to approximately every six months. However, you should have the situation assessed earlier if your Mazda oil indicator light illuminates on your dashboard or if you check your dipstick and your Mazda genuine oil looks dark and gritty or is below the appropriate levels. Look under your parked car occasionally to see if you spot any potential leaks.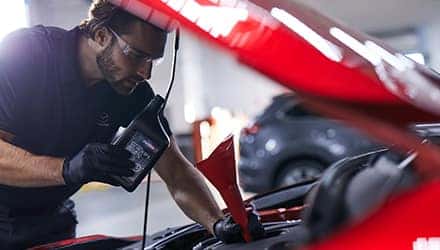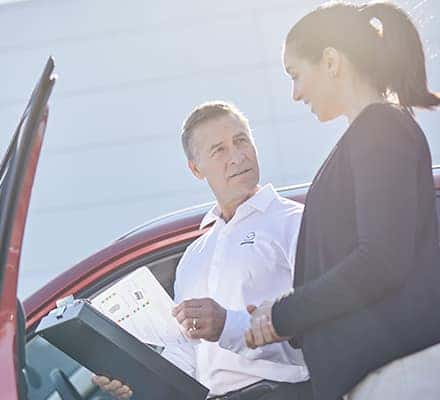 What Are Other Signs You Need an Oil Change
Seek out a Mazda3 oil change if your sedan or hatchback experiences any of the following warning signs:
Your engine produces a knocking sound
Your car vibrates while you're idling
You have problems changing gears
You see too much exhaust smoke
Your gas efficiency has taken a dive
It's possible that some of these problems could be caused by issues other than needing new genuine Mazda premium engine oil, but they still need to be checked out, and our team will quickly get to the source of the problem.
Last but not least, consider visiting us if you plan on taking a long road trip, which will put you over the 7,500-mile mark even if you're not at it yet. This will help ensure your car is as ready as possible to tackle whatever the road sends your way. If you're headed to a different climate for a while, we might switch out your oil for a thinner or thicker alternative.
If you know about your trip in advance, you can even keep your eye out for service specials that can get you a great deal.
Come to Us for a Mazda Oil Change or Other Services
If your car has been hinting that it needs an oil change, schedule a service today. We can also help you with other essential car maintenance, such as tire rotation service, wheel alignment, or brake pad replacement. Our assistance not only allows you to maintain better control on the road, keeping your family safer, but it also helps your car operate more efficiently for savings at the pump.
If you've got a big road trip planned, exploring our Mazda parts for sale is also a good idea. There, you can find spare tires, car accessories like roof racks, and other items to make your vehicle more organized, capable, or efficient – and to help you expect the unexpected. Let us know what you need today.