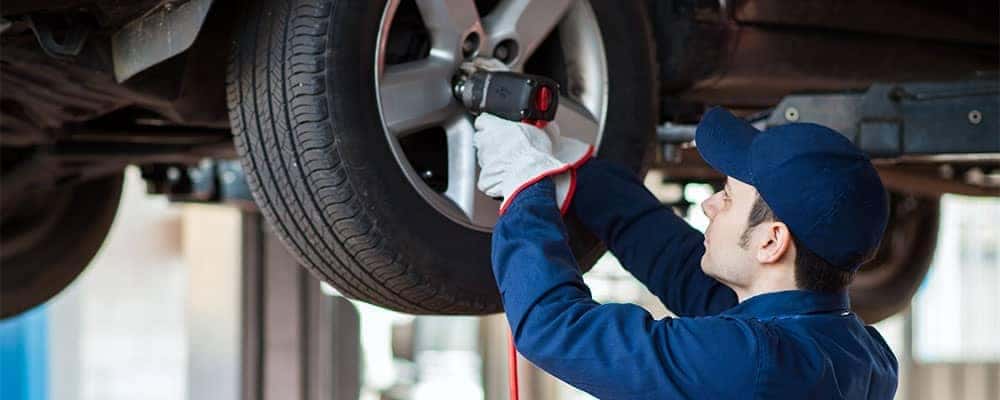 ---
Experts recommend rotating your tires every 5,000 to 7,500 miles. However, not every car is the same. So when is the right time for your car? For starters, check your vehicle's owner's manual to find more exact figures for your make and model's suggested rotation frequency. Additionally, keep in mind your driving habits and Jacksonville weather conditions and how they can impact the rate of tire wear. If you're looking to learn how to estimate tire rotation frequency for your car, and how to read the warning signs that it's time to schedule this routine service, make your way to the Hodges Mazda service center.
Why is Tire Rotation Important?
Even drivers that stay on the flattest of Orange Park roads can't avoid uneven tire wear. Simply turning the corner will cause more wear to a tire's outer edges than the inside. Tire rotations are important, as they move each tire to the opposite edge for even tread wear across the tire and longer tire life. Waiting too long between tire rotations can result in unevenly worn tires, with possible consequences, including:
Unevenly worn tires can't properly grip the road surface. Over time, imbalanced wearing adds up to decreased traction on the road in Lakeside.
Unevenly worn tires are less safe. Unevenly worn tire treads won't make full contact with the road surface — a safety hazard if the road is slick or the terrain is unstable.
You'll need to replace your tires sooner. Neglecting your tire rotation will result in quicker overall tire wear, and you'll spend even more on new tires.
How Many Miles to Rotate Tires for AWD, FWD, and RWD?
If your Mazda SUV or sedan has AWD, all four tires are actively engaged, so they will wear differently than the tires on a FWD or RWD vehicle. As a result, the answer to when to rotate tires will vary between drivetrains:
Front-Wheel Drive — Rotate every 5,000 to 7,500 miles.
Rear-Wheel Drive — Rotate every 5,000 to 7,500 miles.
All-Wheel Drive — Rotate every 3,000 to 5,000 miles.
Make sure that your tire pressure is also just right as you don't want your tires overfilled or underfilled. To learn how to check tire tread depth, which affects pressure, visit Hodges Mazda.
When is it Time to Rotate My Tires?
Making sure you're keeping tabs on tire wear yourself is the best way to ensure you don't miss a tire rotation service. Check for the following signs of tread wear:
Uneven wear — Check for uneven wear between your car's front tires vs. back tires.
Vehicle vibration — If your car seems to vibrate at speeds above 45 mph, uneven tire wear may be the culprit. Vehicle imbalance can have other causes, but if you don't find clear wearing on your tires, it's best for a professional to take a look and diagnose the problem.
Pressure loss — If you notice that one tire is losing air pressure slightly faster than the rest, it's a sign that this tire is under more pressure than the others. Your best option, in this case, is a trip to the service center, so you can be sure there isn't a serious underlying issue.
Remember, wear that has spread throughout the tread pattern isn't a sign you need a rotation.
If you notice an irregular wear pattern where one side has less tread than another, it's likely time to replace the tire. You can still rotate such a tire if the wear is mild, but a severely worn tire is a safety hazard and should be changed out for a new one.
Rely on Hodges Mazda for Tire Rotation and More!
Want to learn more about tire rotations or other car service tips? Contact the Hodges Mazda service team. In need of a tire rotation or another service? Our technicians are ready to help you get your vehicle up and running as it should on St. Augustine roads. Also, check out our service specials to save more, learn more about the Mazda6 configurations, how to clean car floor mats, how to clean leather car seats, and more! Keep up with your Mazda maintenance schedule with Hodges Mazda.