What Does the MAZDA MAZDA3 Check Engine Light Mean?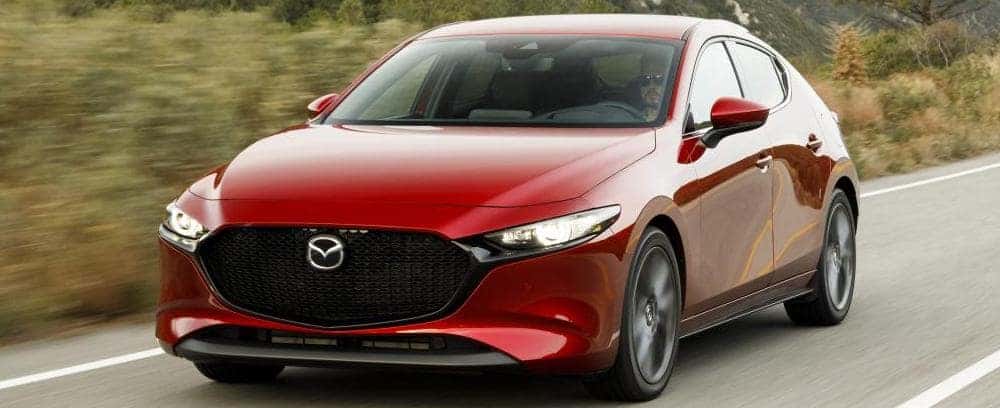 ---
It happens. You're driving around St. Augustine, enjoying your day, and the Mazda Mazda3 check engine light comes on. Worry sets in. You wonder what could possibly wrong with your car. Should you pull over? Will your car run long enough to get to a mechanic? Don't panic. While a Mazda check engine light is nothing to ignore, it doesn't necessarily mean that something is seriously wrong with your car. We'll talk about that below, as well as delving into some other concerns Orange Park drivers have about their Skyactiv®-G engine problems, like the cause that Mazda Mazda3 Skyactiv®-G engine noise, and how to understand Skyactiv® Technology. Of course, if you don't find your answers here, the expert service staff at Hodges Mazda in Jacksonville will be happy to answer your questions.
Reasons for the MAZDA MAZDA3 Check Engine Light
There are a number of reasons the Mazda check engine light may come on, most of them are not serious. If you check the simpler issues on this checklist, and still don't know why the light is on, take your car in to Hodges Mazda so our service department can take a look at it.
Empty or very low fuel tank
Gas cap is not fully tightened
Spark plugs or cables may need to be changed
Thermostat may need to be replaced or low coolant
Emission problems
Electrical problems
What is Causing That MAZDA MAZDA3 Engine Noise?
A loud noise, especially at start up on a cold winter day, is actually normal and not an indication of a Skyactiv®-G engine problem. That noise is caused by a specific Skyactiv® Technology feature called the "Accelerated Warmup System". This system uses an advanced combustion process to speed up the warming up period of an engine on a cold day. The noise should go away after approximately thirty seconds. What if other noises are coming out of your Mazda Mazda3 Skyactiv®-G engine? Noises that occur suddenly and have never occurred before, even though you have had your vehicle for a while, may need to be checked out. Our service staff will be more than happy to help you with that. Though it's important to remember that the Skyactiv®-G engine is a high compression engine (built to improve fuel economy), which is normally louder than most other car engines.
Learn more about the Mazda Mazda3 at Hodges Mazda, and explore the sedan or hatchback trims to see all of the available features of each model.
Frequently Asked Questions
Why is my check engine light on in my MAZDA Mazda3?
There are several causes for a check engine light to illuminate on your car's dashboard. A check engine light can turn on if there's an issue with the emission control system, the fuel tank is extremely low, or if the gas cap simply isn't screwed on tight enough. A check engine light can also be an indicator of a much more significant problem with your vehicle's engine. The best way to diagnose a check engine light is to bring your vehicle into our certified Mazda service center. Our team of professional auto mechanics can scan the computer's diagnostic system for the code that's causing the check engine light on your car to turn on.
How do you turn off the check engine light on a MAZDA Mazda3?
If you need to reset a check engine light, here are the steps you can take. The first thing to do is bring your car in for service and have the check engine light diagnosed. If the light comes back on after we fix anything that needs to be repaired, you can perform a check engine light reset yourself. Here's how.
The first thing to do is turn off your vehicle and put on protective eyewear and gloves because you'll be dealing with your car's battery.
Locate the negative terminal of your car's battery. This is usually marked with a black plastic cover and/or a negative (-) symbol. The positive terminal will likely have a red cap. Do not touch that.
Disconnect the battery cable that attaches to the negative terminal. You will likely need a wrench and/or screwdriver.
Once the negative terminal is disconnected, keep it off the battery for about a minute. If you set the cable down in the engine bay, ensure the terminal end does not come in contact with anything, especially the body of the vehicle, because this will ground the battery.
Reconnect the negative battery cable and make sure it is securely fastened.
That should do the trick. Turn on the car.
If the check engine light is still on, double-check the gas cap for tightness, then repeat the steps above. If the light remains on, visit our service center for additional assistance.
Schedule Service at Hodges Mazda Today
If you need help with your Mazda Mazda3 check engine light or are experiencing Skyactiv®-G engine problems, let the knowledgeable service staff at Hodges Mazda help. They're experts at Skyactiv® Technology and can quickly troubleshoot a Mazda check engine light. While you're at our dealership, check out our inventory of new vehicles, learn about the Mazda6 configurations, or compare our models like the Mazda Mazda3 vs. Mazda Mazda6. We're located conveniently near Lakeside, so stop by today or contact us!